Week 11 (March 9-15)
Summary: COVID is more widespread than the numbers suggest. Waiting until you already have cases in your community before canceling large events will make your epidemic more intense and difficult to control. When you start flooding hospitals with sick people is when people really start dying.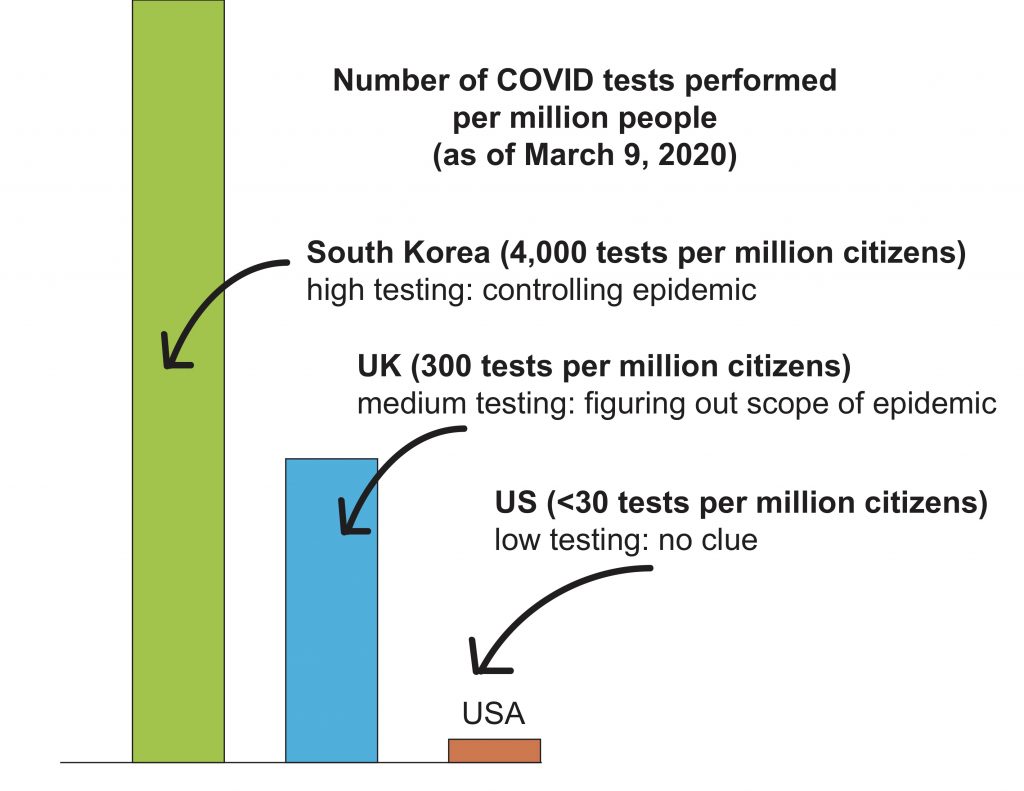 (a) 𝐖𝐞 𝐡𝐚𝐯𝐞 𝐧𝐨 𝐜𝐥𝐮𝐞 𝐡𝐨𝐰 𝐦𝐚𝐧𝐲 𝐀𝐦𝐞𝐫𝐢𝐜𝐚𝐧𝐬 𝐚𝐫𝐞 𝐢𝐧𝐟𝐞𝐜𝐭𝐞𝐝 𝐰𝐢𝐭𝐡 𝐂𝐎𝐕𝐈𝐃. We are still woefully behind in testing for COVID. As of March 9, the UK has tested 18,000 people more than the US (26k vs 8k). That's 15x more at a population level (per million citizens). Of 18 countries, the only ones the US ranks ahead of in testing are Vietnam and Turkey. We are driving blind. Individuals can't make decisions about holding or attending events. Local leaders can't make decisions about canceling schools. At these testing rates, by the time the virus is detected in a community, it's probably already widespread and will be very difficult to stop.
(b) 𝐅𝐥𝐚𝐭𝐭𝐞𝐧 𝐭𝐡𝐞 𝐜𝐮𝐫𝐯𝐞. We're not going to be able to stop COVID from transmitting. And if you start to run the numbers (say, 40% attack rate, and 10-20% hospitalized) and take inventory of the number of hospital beds, respirators, PPE in your state or community, you pretty quickly realize that we don't have anywhere near the capacity for a full-blown COVID epidemic. Especially if healthcare workers are getting sick themselves.
Either act too early, or too late. Aggressive social distancing measures, even before there are confirmed cases, can slow the progression of the epidemic before it takes off. Americans are not particularly socialist by nature, but this is a case where individual sacrifices can collectively dampen the spike of an epidemic and save lives. Again, healthy people don't need to seal themselves in their house. But be prepared for the cancelation of large events — concerts, sports events, political rallies, etc. I've been so impressed by the social consciousness of friends and family and the willingness to alter behavior, cancel plans, and think of the less fortunate. When local leaders and businesses start making very difficult decisions to cancel events, think about the 52 million Americans over age 65 and 133 million Americans with a chronic condition, and maybe resist the temptation to criticize. By the end of this, most of us will know someone who died of COVID, and in retrospect the sacrifices will seem small.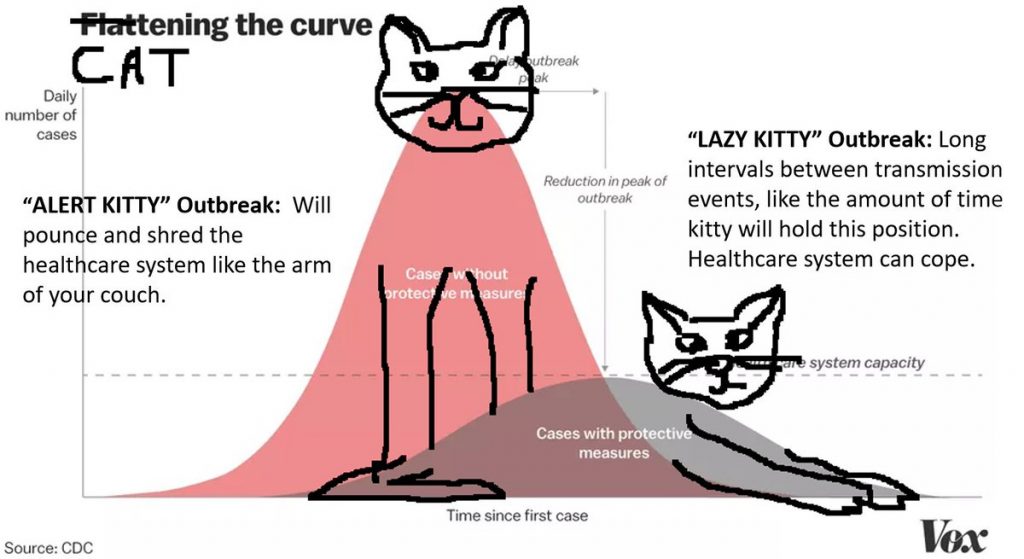 https://covidblog.com/wp-content/uploads/2020/05/covidblog-5.png
0
0
Martha Nelson
https://covidblog.com/wp-content/uploads/2020/05/covidblog-5.png
Martha Nelson
2020-03-12 14:01:27
2020-03-12 18:14:19
Canceling big events